Systematic Reviews and Preparation of Notifications for Foods with Function Claims
Our Academic Expertise Supports Our Evaluation and Documentation with Scientific Evidence
Writing a systematic review needed for notifications of "Foods with Function Claims" to the Consumer Affairs Agency

Literature searches with Web-search queries based on the proposed nutraceutical and the claimed effects
Primary and secondary screening of literature
Reviewing literature and evaluating the claimed effect (qualitative review or meta‑analysis)
Evaluating equivalence, extrapolation, daily intake dosage

Translation of foreign literature
Support on writing of other documents (safety evaluation, explanations on mechanisms of effectiveness, etc.) is also provided, please consult with us for details.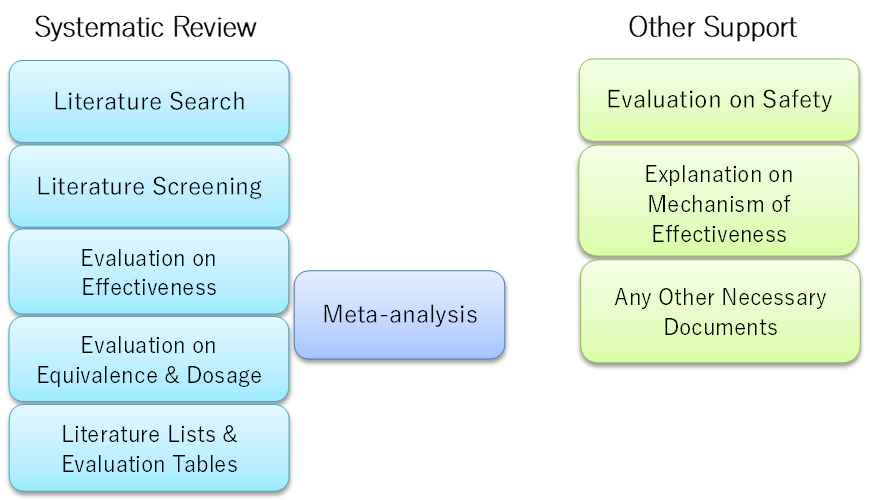 Service Charge:

Systematic Review (per one claim) minimum 1,000,000 yen (excluding tax)

Work Period:

Approximately one month from execution of contract to completion of SR (per each claim)
Forms from (V)‑1 to (V)‑16 of the Consumer Affairs Agency are used
Service charges and work periods are according to the novelty of the claim or nutraceutical factors, the total number of literature that will be screened, and other factors
There will be an additional charge and an extended period for Meta-analysis
Our Clients:

Pharmaceutical Material Manufacturer

Food Material Manufacturer

Health Food Product Manufacturer

Health Food Brand Supplier

Health Food Material or Product Import Agency

Food Contract Research Organization
Contact us by clicking here.
Why Wysiwyg?
Our company is comprised of human resources majoring in life sciences including Medicine and Pharmaceutics
We have sophisticated and professional writing skills related to academic articles, applications to be submitted to authorities, and pharmaceutical safety management
We have extensive experience in summarizing academic articles written in Japanese or foreign languages
Language is no barrier for us because we deal with foreign articles and information on a daily basis
We provide many high-quality services
Support for Academic Information on Functional Foods in Southeast Asia
Food Science Produced by Nature and Society in Tropical Monsoon Region
In recent years, 10 countries forming ASEAN Economic Community have remarkably grown in consumption activities that increased lifestyle-related diseases. The aging population in the future has also induced the awareness of health. With such a background, research on various nutraceuticals and functional foods has also accelerated, taking advantage of the characteristics of the tropical monsoon region. We provide compiled information academically focused on functional foods in this region.